Actors Comedy Studio (ACS) is an online school whose focus is training actors of all ages for Scripted Television Comedy Acting and Audition Technique. Our classes are lively, engaging and considered among the best conducted online classes in Los Angeles… and now the world.
We love having the opportunity to work with Kids and Teens in Los Angeles and beyond. If you know anyone, anywhere in the world who would appreciate these courses, please share this page. You can also add yourself to our mailing list here for more upcoming events.
Our Kid & Teen Division is headed by ACS Co-Founder and on-set Studio Teacher/Welfare Worker Lauren Bertoni, and supported by arts educator, audition coach and working actor Tiffany Berube. Lauren and Tiffany provide a supportive, nurturing environment for all of their students and are invested in helping them navigate the entertainment industry.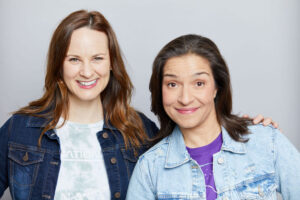 Classes and Coaching
Develop Characters, Audition Better, Get Silly!
Thursdays 3:00 pm – 4:00 pm PDT
Learn how to work in TV Comedy! Perfect for new actors or those wanting to learn more about working in TV and/or Comedy. This course includes a free career consultation and a special Audition Technique class with Executive Producer Irene Dreayer.
Six weeks, Comprehensive Course – Saturdays 12:00 – 2:00 pm PDT
Next Session: April 22 – June 3, 2023 (no class May 27 )
Master Audition and Self-Tape Technique, Find Your Brand!
Ongoing – Thursdays 4:30 pm – 6:30 pm PDT
OR
Ongoing – Saturdays – 9:30 am – 11:30 am PDT 
A Weekly Workout for Kids and Teens who are Series Regular Ready!
Ongoing – Saturdays – 9:30 am – 11:30 am PDT 
Work with Industry guests. See what it takes to audition like a pro, book work, and start networking.
Stay Tuned!
We offer affordable, virtual audition coaching, career coaching and private classes for kids and teens of all ages. We're also happy to meet with parents to offer advice and guidance on set etiquette, agent/manager relationships or any other show biz topic that's on your mind.
As Needed – click for rates 
Casting Director Workshops
Network and learn with Professionals from LA's top Kid & Teen Casting Offices.
Online Class for ages 9-17
*18+ to play younger email workshops@actorscomedystudio.com for approval
Sunday, May 7, 12:00 pm Noon PDT
$45
We are committed to following all of the CSA Guidelines for workshops.
Actors Comedy Studio is bonded in the State of California #72BSBII7494
Our workshops are learning experiences, not auditions or employment opportunities.
 Free Workshops
Join us for a free overview of working in TV comedy with one of LA's top Studio Teachers and Youth Audition Coaches, Lauren Bertoni!
Stay Tuned!
Free with RSVP
Valuable tips and insights on how to navigate the Industry with your Kid or Teen.
Stay Tuned!
Free with RSVP
A FREE overview of the 10 Heroes and Heroines of Comedy for kiddos!
Stay Tuned!
Free with RSVP
Coming Soon…
Book It Bootcamp (11+)
Learn how to book the room and the job in this 2-week intensive.
Stay Tuned!
Teen Commercial Workout (11+)
Learn Tips and Techniques so you can Audition for Commercials with confidence!
Stay Tuned!