Audition Coaching for Kids & Teens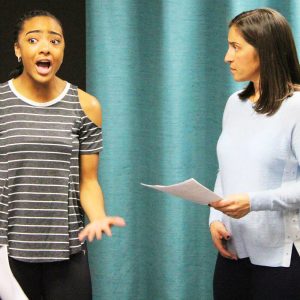 As an on-set Studio Teacher, Lauren Bertoni knows what Disney, Nickelodeon, Netflix and all the other networks want from you.
As a working on-camera actor and coach, Tiffany Berube will help you elevate your game.
And when it comes to auditioning, they'll both tell you what casting directors won't! Lauren and Tiffany work with Hollywood's top kid, tween and teen actors in class, coachings and on sets.
We're also happy to meet with parents to offer advice and guidance on set etiquette, agent/manager relationships or any other show biz topic that's on your mind.
Our Credentials Are The Best in Hollywood:
Lauren is a certified Studio Teacher which includes a Social Welfare certification. She's a reading specialist and can teach K-12 in New Jersey, New York and California. With a Master's Degree in Education, she is by far one of the most qualified youth acting coaches in the world. When she's not teaching and coaching at Actors Comedy Studio, she is working on sets with major networks.
A Studio Teacher/Welfare Worker, is a specialized teacher who educates and protects the welfare of minors while they are working in the Entertainment Industry. Lauren is also Treasurer on the Executive Board of IATSE Local #884. Some of her recent credits include; Head of the Class, OK Boomer, This is Us, Never Have I Ever, Dear White People, Diary of a Future President, The Big Show Show, American Housewife, Sydney to the Max, Grown-ish and World of Dance.
Tiffany Berube is a sitcom and commercial actor, indie TV and sketch writer and producer. She also co-chairs the Industry Workshop Program at ACS, where she educates students on the business of on-camera acting and connects them with casting directors, producers and directors. Currently she is on the teaching staff at Actors Comedy Studio as well as the American Academy of Dramatic Arts-LA.
Tiffany recently developed the Commercial Acting and Auditioning class for Teens and Young Adults at The Academy at Edge Performing Arts Center. Tiffany loves helping kids and teens express themselves through the arts and mentoring young actors as they find their path in the industry.
Lauren and Tiffany provide a supportive, nurturing environment for all of their clients 😉
$145 for a one hour appointment
$80 for a half-hour appointment
Generally 3 pages of dialogue or less require a half-hour, 4 pages of dialogue or more require an hour.
To schedule an appointment call or email: