Kid Comedy Workout
Develop Characters, Audition Better, Get Silly!
Learn, play and connect online in our Sitcom class for Kids ages 7-10. Taught by Audition Coach and Working Actor Tiffany Berube, each fun and insightful six-week class will prepare you to work on sets with stars.
Tiffany will help you Find the Funny in Comedy Scripts and deliver your best performance for the camera. Tiffany knows what Disney, Nickelodeon, Netflix and all the other networks want from you. And when it comes to auditioning, she'll tell you what casting directors won't!  Plus you'll get footage back in every class!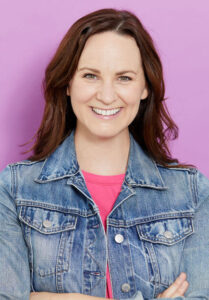 In Addition, You'll Learn:
➥ How to Audition & Self-tape Like a Star
➥ Inside Tips for Zoom Auditions
➥  How to Develop Characters
➥  How to Work with Television Scripts
➥  How to Act with a Camera
Classes are conducted joyfully and efficiently through Zoom
Days & Times
Sundays
12:30 pm – 2:00 pm PDT
November 7 – December 19 (Off November 28)
Enroll
About
Tiffany Berube is a sitcom and commercial actor, indie TV and sketch writer and producer. She also co-chairs the Industry Workshop Program at ACS, where she educates students on the business of on-camera acting and connects them with casting directors, producers and directors. Currently she is on the teaching staff at Actors Comedy Studio as well as the American Academy of Dramatic Arts-LA.
Tiffany recently developed the Commercial Acting and Auditioning class for Teens and Young Adults at The Academy at Edge Performing Arts Center. Tiffany loves helping kids and teens express themselves through the arts and mentoring young actors as they find their path in the industry.
Tiffany provides a supportive, nurturing environment for all of her students. 😉
What You'll Need
Your imagination, your energy, and a way to use ZOOM, our preferred portal for online classes.
FAQ's
Is there a prerequisite for this class?
Nope! Our Kid class is for actors ages 7-10.
What is the class size?
Each online class section is limited to a maximum of 14 students.
What if I miss a class?
We do not offer make ups for this class.
I have zero experience. Will I be okay?
Yes! Our program is built to accommodate actors learning from scratch and experienced actors who want our specialized training in television comedy.
How do I sign up for a course?
For Kid Comedy Workout, you can register online and pay for the course using a credit card or debit card.
I still have questions, is there someone I can talk to?
Yes! You can email info@actorscomedystudio.com or call us at 323-302-9152.
$145.00
Seats still available