Characters for Kids!
Join us for a free overview of the Characters of Comedy with Actors Comedy Studio Founder and Union Studio Teacher Lauren Bertoni, and Youth Audition Coach and Working Actor Tiffany Berube.
Lauren and Tiffany will introduce to 10 Characters of Comedy (Heroes and Heroines) used by writers and actors in TV Comedy! Kids ages 7-10 will learn how to identify, develop, sharpen and have FUN with character work. Learn how to play the part the way the writers intended! Attendees will receive a copy of our Heroes and Heroines of Comedy for Kids & Teens booklet, as well as a discount code for Kid Comedy Workout.
Lauren Bertoni is co-owner of Actors Comedy Studio – The World's only Sitcom Acting and Writing School. At ACS, Lauren teaches actors of all ages how to book work in TV Comedy. When she is not coaching actors, Lauren is working on set as a Studio Teacher. A Studio Teacher/Welfare Worker, is a specialized teacher who educates and protects the welfare of minors while they are working in the Entertainment Industry. Lauren is also Treasurer on the Executive Board of IATSE Local #884. Some of her recent credits include; Annie Live, Head of the Class, OK Boomer, This is Us, Never Have I Ever, Dear White People, Diary of a Future President, The Big Show Show, American Housewife, Sydney to the Max, Grown-ish and World of Dance.
Tiffany Berube is a sitcom and commercial actor, indie TV and sketch writer and producer. She also co-chairs the Industry Workshop Program at ACS, where she educates students on the business of on-camera acting and connects them with casting directors, producers and directors. Currently she is on the teaching staff at Actors Comedy Studio as well as the American Academy of Dramatic Arts-LA.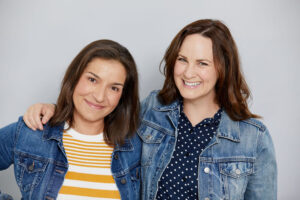 What You'll Learn:
➥ An Introduction to the 10 Heroes and Heroines of Comedy
➥  Character Mantras, Strengths, Weaknesses and Characteristics
➥ How to Identify Characters on TV, in the Breakdowns and in Script Analysis
➥  How to narrow down your character wheelhouse (What's your type?) and how to use your wheelhouse in your marketing materials
➥ And more!
Lauren and Tiffany provide a supportive, nurturing environment for all of their students (and their Parents 😉)
Sunday, March 20
10:00 am – 11:30 am PST
Free!
Our ONLINE Courses and Workshops are conducted joyfully and efficiently through Zoom.
JOIN ZOOM MEETING INSTRUCTIONS HERE
We will email a zoom link no later than 2 hours before start time. This workshop is designed for parents and guardians but your kid or teen is welcome to join! We hope to see you there!
$0.00
Seats still available