Develop Characters, Audition Better, Laugh Harder!
Learn, play and connect online in our comedy classes for Teens (ages 12 and up). Taught by Lauren Bertoni and Tiffany Berube, each fun and insightful six-week class will prepare you to work on sets with stars. Lauren and Tiffany will help you Find the Funny in Comedy Scripts and deliver your best performance for the camera.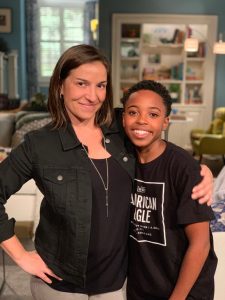 In Addition, You'll Learn:
➥ How to Audition & Self-tape Like a Star
➥ How to Nail Your Adjustments
➥ Inside Tips for Zoom Auditions
➥ Fast and Fun Character Development
➥  The Business of "The Business"
➥  Television Comedy Script Analysis
➥  How to Work on Set Like a Pro
All Classes are taught through ZOOM.
Days & Times
Teen Saturdays *SOLD OUT*
10 am – 12 pm PST 
March 13 – April 24 – (Six weeks taking off April 3rd for Easter Weekend)
Teen Sundays *SOLD OUT*
10am – 12 pm PST
March 14 – April 25 (Six weeks taking off April 4th for Easter Weekend.)
Enroll
We're offering a special discount for this course to help out others in difficult times. 
Usually $295  Now just $195 
We ask that you let us know the age and name of your Teen in the "Order Notes" box during purchase.
About
As an On-Set Studio Teacher, Lauren knows what Disney, Nickelodeon and all the other networks want from you. As a working on-camera actor and coach, Tiffany will help you elevate your game. And when it comes to auditioning, they'll tell you what casting directors won't!  Plus you'll get footage back in every class!
A Studio Teacher/Welfare Worker, is a specialized teacher who educates and protects the welfare of minors while they are working in the Entertainment Industry. Lauren is also Treasurer on the Executive Board of IATSE Local #884. Some of her recent credits include; The Big Show Show on Netflix, American Housewife, Sydney to the Max, Grown-ish and World of Dance.
Tiffany Berube is a sitcom and commercial actor, indie TV and sketch writer and producer. She also co-chairs the Industry Workshop Program at ACS, where she educates students on the business of on-camera acting and connects them with casting directors, producers and directors. Currently she is on the teaching staff at Actors Comedy Studio as well as the American Academy of Dramatic Arts-LA.
Tiffany recently developed the Commercial Acting and Auditioning class for Teens and Young Adults at The Academy at Edge Performing Arts Center. Tiffany loves helping kids and teens express themselves through the arts and mentoring young actors as they find their path in the industry.
Lauren and Tiffany provide a supportive, nurturing environment for all of their students 😉
What You'll Need
Your imagination, your energy, and a way to use ZOOM, our preferred portal for online classes.
FAQ's
Is there a prerequisite for this class?
No. Our Teen classes are for ages 12 and up.
What is the class size?
Each online class section is limited to a maximum of 14 students.
What if I miss a class?
You can make up the class you missed in the other section within the six week session. If you can't make class on Saturday, make up on Sunday and vice versa. Just let us know via email.
I have zero experience. Will I be okay?
Yes! Our program is built to accommodate actors learning from scratch and experienced actors who want our specialized training in television comedy.
How do I sign up for a course?
For Teen Comedy Workout, you can register online and pay for the course using a credit card or debit card.
I still have questions, is there someone I can talk to?
Yes! You can email info@actorscomedystudio.com or call us at 323-302-9152.