Word Party!
Develop Characters, Write Faster and Slay Your Demons
Taught by LA's Comedy Guru, Gunnar Rohrbacher, Word Party! is about exploring your creative impulses with support and spontaneity. No pressure, no deadlines, nothing due. Just pure, unfiltered fun! Gunnar will guide students through structured/timed writing exercises. The focus of each exercise varies from character development, scene structure, thinking vertically, writing without censoring and eradicating dreaded writer's block.
About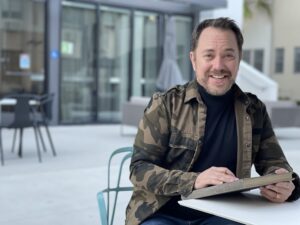 ACS Founder, Gunnar Todd Rohrbacher is an actor, writer, director and Master Comedy Coach with over 25 years of experience working with actors on the comedy sets and stages of Hollywood. He is the author of The Comedy Code: Your Complete Guide to Acting & Writing in the Digital Age of Hollywood, The Funniest Scenes in the World, Volume 1, and The Funniest Scenes in the World, Volume 2 – original TV scenes for actors to practice, workshop and shoot reel footage! His books are part of the Sitcom curriculum he created for the American Academy of Dramatic Arts.
He's a highly sought after acting and writing coach who has taught at SAG•AFTRA, improv and sketch festivals around the country and The SAG•AFTRA Conservatory at The American Film Institute. He is a regular guest instructor at The Groundlings annual Master Class event and he created the Acting for Sitcoms program at The American Academy of Dramatic Arts.
Gunnar is also a published author and a Contributing Expert to Backstage. His knowledge of comedy past and present is unmatched.
Word Party! at a glance:
➥  Writing warm ups and vocabulary building exercises
➥  Improvisational and timed writing exercises
➥  Generate ideas for pilots, web series and comedy shorts
➥  Character building exercises
➥  Joke writing exercises
Gunnar provides a supportive, nurturing environment for all creatives 🙂
Days & Times
October 25 – November 29
Tuesdays 6 – 9 pm PDT
What You'll Need
Your imagination and a way to use ZOOM, our preferred portal for online classes.
Enroll
Word Party is an inexpensive way to keep your writing fresh and stay in touch with other writers!
$225
FAQ's
Is there a prerequisite for this class?
No. This class is for writers, actors or anyone.
What is the class size?
Online Class is limited to a maximum of 16 students
What if I miss a class?
There are no make ups for Word Party!
I have zero experience. Will I be okay?
Yes! Our program is built to accommodate actors learning from scratch and experienced actors and writers who want our specialized training in television comedy.
I still have questions, is there someone I can talk to?
Yes! You can email info@actorscomedystudio.com or call us at 323-302-9152.
$225.00
Seats still available