Guest Teaching
The Comedy Code Intensive Workshop
with Gunnar Rohrbacher
Founder and owner of Actors Comedy Studio, Audition Experts and author of The Comedy Code; Your Complete Guide to Acting & Writing in the Digital Age of Hollywood.
This workshop will give you powerful tools you will use throughout your lifetime. The confidence and certainty actors gain from Gunnar's highly efficient approach to the work makes pursuing a career in the arts infinitely more efficient, fun and productive. A thirty-year veteran in stage and television comedy, Gunnar demystifies Hollywood.
The Comedy Code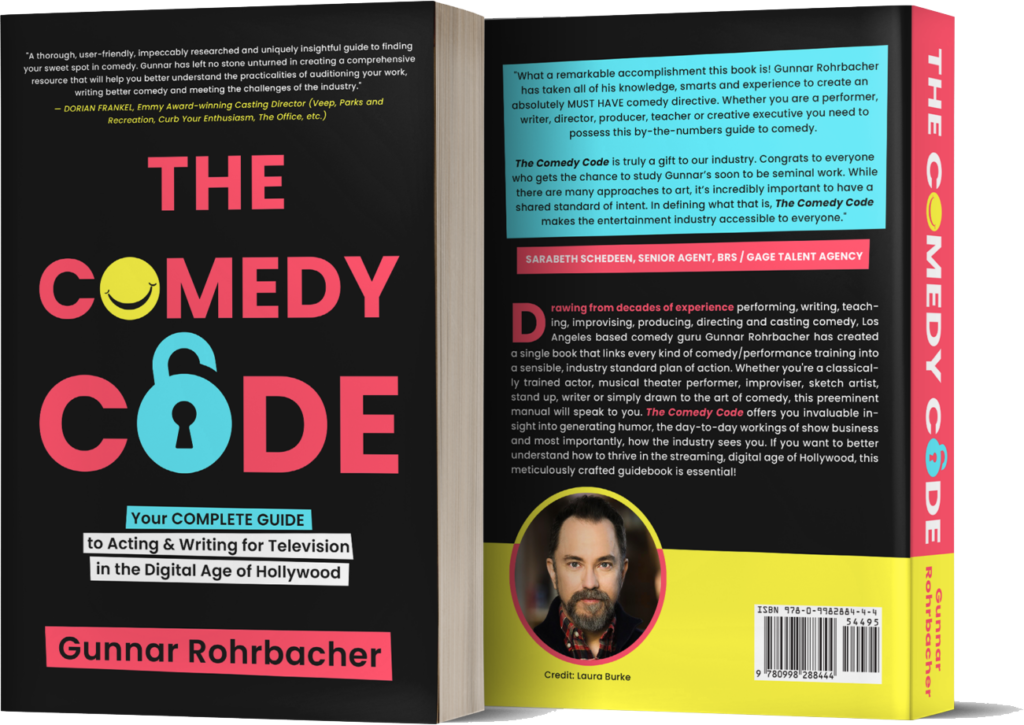 Drawing from decades of experience performing, writing, teaching, improvising, producing, directing and casting comedy, Los Angeles based comedy guru Gunnar Rohrbacher has created a single book that links every kind of comedy/performance training into a sensible, industry standard plan of action.
Whether you're a classically trained actor, musical theater performer, improviser, sketch artist, stand up, writer or simply drawn to the art of comedy, this preeminent manual will speak to you. The Comedy Code offers you invaluable insight into generating humor, the day-to-day workings of show business and most importantly, how the industry sees you. If you want to better understand how to thrive in the streaming, digital age of Hollywood, this meticulously crafted guidebook is essential!
Available on Amazon, Barnes & Noble, Book Soup, Target, Powell's & Walmart
You can also purchase for Kindle or a digital ebook.
The Workshop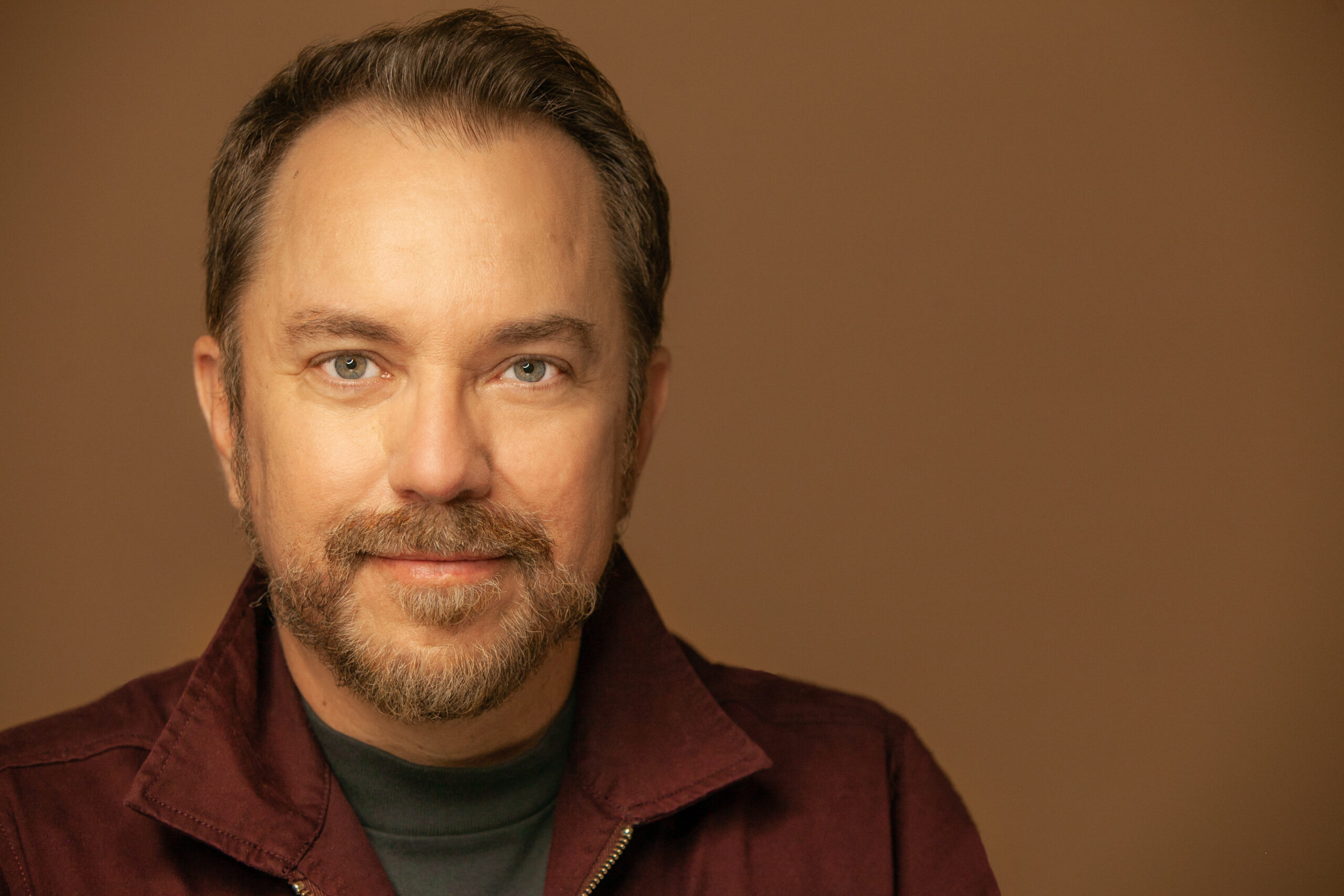 Writers and Producers hires actors, not casting directors. With this truth as a foundation to his powerful curriculum, Gunnar helps his students thrive in real world conditions. He teaches universally regarded industry standards that can be learned, honed and applied by anyone.
Talent and training are the minimum requirements for working actors. We book work once we understand ourselves, how the Industry operates and are able to excel within the audition and self-tape process. Simply put, Gunnar wrote the book on TV and Film Comedy. He empowers creatives with vital knowledge found nowhere else.
What you'll learn at a glance:
➥  Gunnar's iCAMERA method of Comedic Script Analysis
➥  The Heroes of Comedy; Ten Comedy Archetypes every actor and writer should know!
➥  Branding; How TV Comedy functions and where YOU fit in
➥  Audition & Self-tape Dos and Don'ts
➥  Single-cam vs. Multi-cam Comedy and more
About Gunnar
My Background is Showbusiness Gumbo

The ingredients can seem random, but it all makes sense together when it's cooked over time with love. I'm a writer, actor, director, improviser, producer, teacher, coach, author, entrepreneur, counselor and former casting director. There are certainly moments when my path felt less than clear. Maybe it's because I like to say yes to things. One day I'm casting a pilot for ABC, the next I'm working for Steven Spielberg, writing an episode of Toonsylvania. In hindsight, these varied experiences help me help others with a clarity and vision that is quite satisfying.
I've seen the industry from just about every angle and it's not mysterious to me. My place within it is to welcome others into it. Sometimes it's to welcome people back from a break. Sometimes I help well known pros level up ever higher. Whatever the case, my broad base of knowledge seems to make life easier for others, so I choose to be an advocate for the ambitions of my tribe members.
I was blessed with amazing teachers right from the beginning. In turn, they made me want to teach. I was fortunate to be trained and mentored by some of the industry's most respected comedy authorities including Lisa Kudrow, Cynthia Szigeti, Phyllis Katz, Karen Maruyama, Mindy Sterling, Tim Bagley, Groundlings Founder Gary Austin, and many other illustrious comedians.
In addition, I have appeared on virtually every Comedy Main Stage in Los Angeles, including: Groundlings, Upright Citizens Brigade, ACME Comedy Theatre, Second City, IO West, Comedy Central Stage at the Hudson, HBO Workspace, The Comedy Store and The Improv. I also had the time of my life directing the multi-media rock opera, The Hunchback of Notre Dame with Vox Lumiere to sold-out crowds at the John Anson Ford Amphitheater.
Prior to teaching TV & Film Acting, I taught all levels of improvisation and sketch writing for 10 years. I'm intimately familiar with the curriculum of every improv school in the USA. I know what each school teaches and the purpose behind it. I also worked in commercial casting as well as theatrical casting. It was in casting that I really learned why some actors booked and others did not.
Other things I did…
I designed the Acting for Animators program for Disney's Animation Studio. That was a cool gig. Studio execs wanted the animators to have a greater sense of the acting process, so I created an acting program and taught all of Disney's animators how to act! While I was there, they asked to consult on two of their feature films, Bolt and Meet The Robinsons.
I created the current Acting for Sitcoms programs at The American Academy of Dramatic Arts and The New York Film Academy.
I've been a guest speaker at The Groundlings, CalArts, SAG•AFTRA, The SAG•AFTRA Conservatory, The American Film Institute and FilmBase in Ireland.
I booked a gazillion commercials and even starred in a couple of pilots for NBC; Prime Time Comedy, produced by the famed George Schlatter of Laugh-In and the semi-improvised sitcom The Weekend.
Finally, I've been a network acting coach on multiple TV series and I'm a proud graduate of the Warner Bros. Writers Program.
Testimonials
The Comedy Code is truly a gift to our industry. While there are many approaches to art, it's incredibly important to have a shared standard of intent. In defining what that is, The Comedy Code makes the entertainment industry accessible to everyone.
 – Sarabeth Schedeen, Senior Agent, BRS/Gage Talent Agency
Gunnar has left no stone unturned in creating a comprehensive resource that will help you better understand the practicalities of auditioning your work, writing better comedy and meeting the challenges of the industry.
 – Dorian Frankel, Emmy Award-winning Casting Director
See, Gunnar is the genius, one that just can't help himself. He insists on discovering (and luckily for all of us, then teaching) every aspect of our craft. He has to know how all the moving parts of comedy work, and how to make them work on a best-of-breed level. And he knows how to share what he knows and has perfected in a way that engages and inspires his acting and writing students on a very deep level.
 – David H. Lawrence XVII, Actor Voice Instructor, Creator of Rehearsal Pro App
Thank you, Gunnar! The Comedy Code is my acting bible and will never leave my side. It has everything you need to know about show business, all in one place. I'll be taking it everywhere; on auditions, on set, to the gym… I just hope it's not too heavy!
 – Kate Linder, Actor and Activist
No matter your POV, if you are involved in the creation of characters, whether it be via writing and/or performing, The Comedy Code brings with it a giant breath of relief. This is because it shares details that are so deeply familiar. You will instantly recognize yourself and others within each page. It is an invaluable roadmap for your journey along this wonderfully wacky path of creativity. Don't leave your imagination without it.
 – Elaine Hendrix, Actor and Activist

$490.00
Seats still available